Water sources are essential accessories to maintain the health of cats, so many veterinarians recommend them. The fountains are specially made to provide your cat with clean, fresh and clean water, guaranteeing the health of your pet. For this reason, here we bring you a selection of the 5 best sources of drinking water for cats so you can choose the one that best suits your needs and those of your cat.
5 Best Cat Drinking Fountains
1. Catit Flower Cat Water Fountain: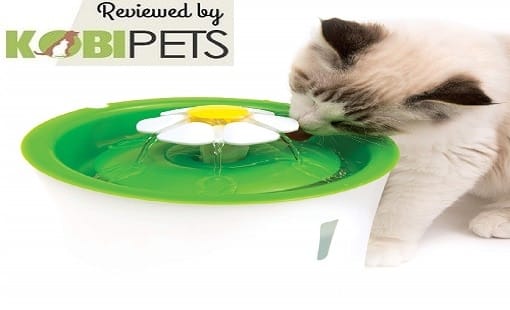 • This source of drinking water for cats is low noise, very quiet, and offers clean and stable water.
• Keeps the water always very clean so your cat does not get sick.
• The compact water tank was designed to take up little space on the floor
• Easy to clean, that is why it is one of the most sought after sources today.
• Includes a small energy-efficient pump.
• It has an ergonomic design.
• The materials are not of first quality, but they are adequate to their price;
• It is necessary that the tank is filled with water so that the pump does not make a lot of noise
• The refills of the filters can give a problem.
The Catit Flower font is designed as if it were a flower in a pond. Its design is fresh and unique and can be configured in three ways of water flow, which are quite attractive for demanding drinkers. The pump is small but sufficient to maintain the flow of water, and the flower is easy to add (or remove) from the source. Includes a dual-action water filter that removes magnesium and calcium from tap water, removes chlorine odors and bacteria and retains hair, sediment, and debris
This excellent product has measures between 21 x 21 x 18.5 cm, its capacity is 3 liters and offers 3 adjustments of water flow: smooth water flow, bubbling top, and quiet currents, also has an efficient system of water recirculation.
2. Drinkwell 360 pet fountain standard
• You can choose between one and five pipes, without the water splashing.
• Your pump is silent and easy to clean
• Water flow control can be adjusted.
• It has a replaceable carbon filter that absorbs terrible tastes and smells.
• It has a reception ramp that prevents water and makes noise.
• Your system is low voltage, 12 V with disconnection.
• It has replacement filters one foam and one carbon.
• Filters should be changed frequently
• Over time the water flow is lower, but this is solved by cleaning the source and the motor.
It is an ideal source for cats that offers them the possibility of drinking from any side since its orientation is 360 degrees. Provides between 1 and 5 interchangeable jets that allow you to customize the flow of water without turning off the source, giving you one to five pipes. It includes a foam filter to remove hair and debris and a carbon filter that eliminates bad tastes and smells.
This innovative fountain has dimensions of 37.2 x 37.5 x 19 cm; 4.28 pounds, its capacity is 128 oz. Of water and it is autonomous. It has an excellent capacity so that you do not have to fill the device every day.
3. PetSafeDrinkwell Platinum
• This fountain has enough water capacity for a cat
• The water outlet flow is adjustable in a very comfortable way.
• BPA free plastic is dishwasher safe.
• It has a carbon filter that eliminates bad tastes and smells.
• Flow control is adjustable to increase or decrease the flow of water.
• Its design is unattractive; the pump is a bit noisy and very light.
The PetSafeDrinkwell Fountain has a capacity of 168 oz. Of filtered fresh water for your cat to stay healthy and hydrated. Its filter can eliminate odors and flavors, and keeps the water clean and fresh, also has a free fall of water that continuously oxygenates the water and encourages your cat to drink more.
This useful source for cats has the following measures: 40.3 x 27 x 26.7 cm; 4 pounds. It has a capacity of 168 oz of water. The ramp is anti-splash, is easy to assemble and installs easily, is practical and easy to clean, and the filter is replaceable, so the water is always kept clean.
4. PetSafe ceramic pet pot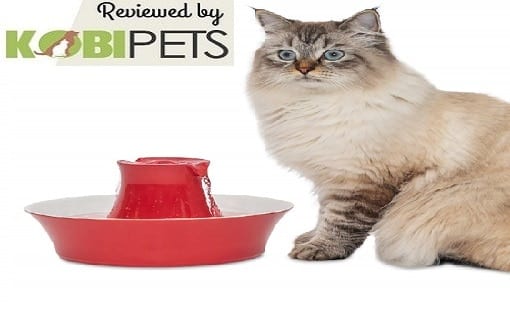 • It is a ceramic source that provides a stable weight,
• It is very hygienic and durable;
• It is easy to disassemble and assemble for cleaning,
• Has easy to replace filters
• Its design does not have sharp edges that can be harmful to your cat.
• It is an expensive and fragile material
• The water capacity is small
• The lower area for drinking may be a little narrow
PetSafe Pet Fountain allows your cat to enjoy fresh, filtered water, free of waste, bad taste, and a smell of water. Water is continuously moving, so it inhibits the growth of bacteria while encouraging your cat to drink more.
This excellent product has dimensions of 26.7 x 26.7 x 15.2 cm; 4.35 pounds Its water capacity is 70 oz.
Like the previous sources, this is a replaceable foam filter, it has a replaceable carbon filter that eliminates the bad tastes and smells of water, and its submersible pump is silent.
5. Pioneer Pet Raindrop Stainless Steel Pet Drinking Fountain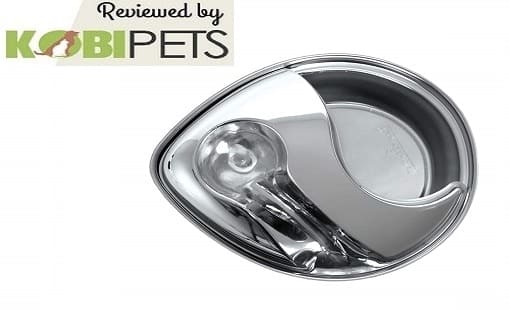 • This pet fountain fits any decoration of your home
• It is dishwasher safe,
• Perfectly fits for smooth flow and less noise
• Encourage your cat to drink water to stay hydrated and healthy.
• It has a safe, low voltage power supply system, approved by UL.
• The slight sound on the motor as long as the device is not completely full and the filters and filters are replaced continuously.
Pioneer Pet Raindrop is a stainless steel source that helps your cat drink more water because it is attracted to moving water. Circulating drinking water is naturally attractive to your cat and fresh; it has a filter that cleans and purifies the water, and its design is quite ergonomic.
The dimensions of this fountain are 4 ¼ "H x 9 ¾" W x 11 ¾ "L, while its capacity is 60 oz and its weight is 1.7 lbs. It also has a replaceable top quality carbon filter to eliminate odors and flavors. Its construction is of high-grade stainless steel, which allows its easy cleaning.
Conclusion
It is true that there is another wide variety of sources for cats, but before choosing one you should verify that it has a filter, that is silent, that provides security to your cat, that is easy to clean and that guarantees a duration of In addition, it is advisable that you evaluate its advantages without taking into account the price. Always think that the source will be an investment to guarantee the health of your cat, it will not merely be purchase either.