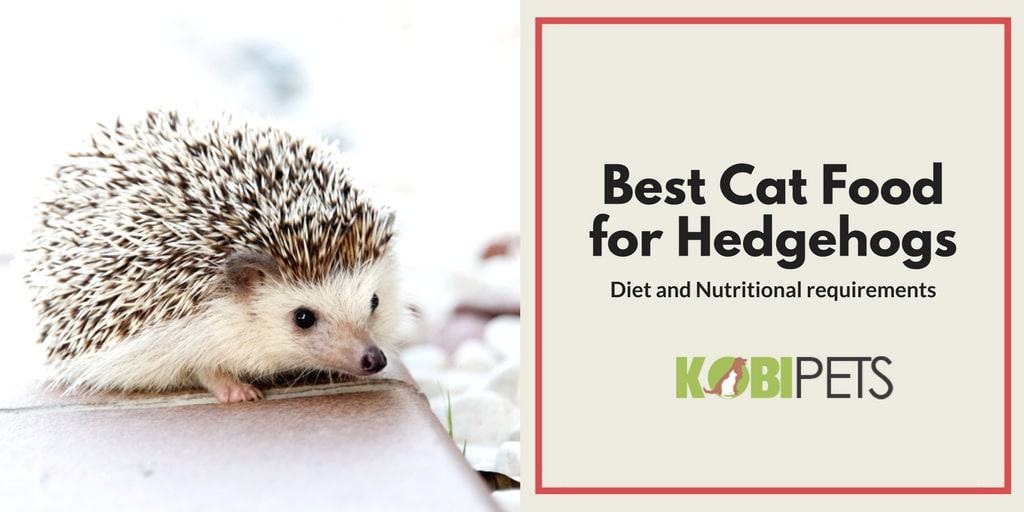 Ever since hedgehogs have become such popular pets (rightfully so), their owners, as well as breeders, have been trying to figure out how to feed them properly. There is still quite a debate going on over it! Many hedgehog owners, vets, and breeders can't seem to fully agree on what food is best for the cute little gnawers.
Some claim that cat food is most suitable. After all, they have been eating it for a while since hedgehog food wasn't always on the market. When it finally arrived, it was somewhat disappointing.
Here's a list of the best cat food for hedgehogs depending on their age:
Cat Food for Hedgehogs Under 6 Months Old
Chicken Soup for the Soul Kitten Food (Canned)
Slowly cooked, quite rich in nutrients, it can be used both as a stand-alone food or just as a supplement. It even has traces of vegetables which hedgehogs always appreciate in the right amount.
It contains chicken meal, chicken liver, chicken fat (preserved with mixed tocopherols) and cracked pearled barley.
Additional ingredients serve as a good source of omega-3 and omega-6 fatty acids, vitamin E and Zinc.
BLUE for Cats Adult Dry Cat Food
This pack has a healthy portion of protein and fat (34% and 18%, respectively) as well as fiber.
The percentages are just what they need to be.
Hedgies love the taste of it, especially the brown bits. It's packed with deboned chicken, chicken meal, oatmeal, whole ground brown rice, and whole ground barley.
Fromm Family Foods Adult Gold for Cats
Coming in 15 lb packs at a price, it will certainly last you a while, even if you don't mix if with other kinds.
Chief ingredients are duck, chicken meal, salmon meal, pearled barley, and rice.
The protein-fat ratio is well balanced at 32% and 18%, respectively. The level of fiber is 3.5%.
Halo Spot's Stew Natural Dry Cat Food
If you and your hedgie are looking for something out of the ordinary, and if your pet particularly dislikes chicken, this pack will suit you well. It is also a better source of fiber with its levels being 6.5%.
The and protein levels are also satisfactory. The main ingredients are salmon, trout, eggs, pea protein, oats, and pearled barley.
Some hedgehogs have a taste for fish, which is no cause for concern as long as the protein and fat levels are well balanced.
Taste of the Wild Grain Free High Protein Natural Dry Cat Food
Another good choice if your hedgehog is crazy about both marine and freshwater fish.
The pack consists of a unique mix of trout, ocean fish meal, sweet potato, potato protein, and potato.
Completely grain-free, it is particularly good for hedgehogs that are not avid runners. Grain tends to fill up hedgies while providing little nutrition.
Cat Food for Hedgehogs Over 6 Months Old
Purina Beyond Natural White Meat Chicken & Whole Oat Meal Recipe
For those that are looking for staple food that is not going to make their hedgehog obese, this is another good option. It doesn't contain any unnecessary and unhealthy grain such as wheat, corn or soy.
It does, however, contain whole ground brown rice that nicely complements the main ingredient, which is white meat chicken. The other two ingredients are chicken meal and soybean meal.
Chicken Soup for the Cat Lover's Soul Canned Food for Adult Cats
If your hedgehog is a bit chubby, you'll be doing it a favor by opting for this pack that has only 9% fat.
It can be a supplement or just a part of a bigger mix. It is also a perfect choice for hedgies that lack fiber.
The top ingredients are chicken, chicken meal, cracked pearled barley, and chicken fat (preserved with tocopherols).
BLUE Adult Weight Control Chicken & Brown Rice Dry Cat Food
The two chief ingredients are something that you want to see when buying food for your hedgie.
You always want to see some named protein sources on top. If you are on a budget, you are getting more than your money's worth with this one.
Chief ingredients are chicken, chicken meal, whole ground brown rice and soybean meal.
What to Feed a Hedgehog - Nutritional Requirements
Note that hedgies are primarily insectivores and omnivores, depending on who you ask. This means that their diet should mostly consist of chitin (insect protein), as well as veggies, fruits, some kinds of cooked meat.
Luckily for us, domesticated hedgies do not need to be fed real insects (however, it is good to give them insects such as mealworms as treats). We just need to make sure to feed them dry food where the levels of protein and fat are right. Cooked eggs and cottage cheese are great as treats.
Hedgehogs are stubborn creatures, especially when it comes to food, and yet they eat a variety of different food. Which is no wonder cause they live in nature, and are quite fond of gardens, where they are used to eating anything they think might be delicious.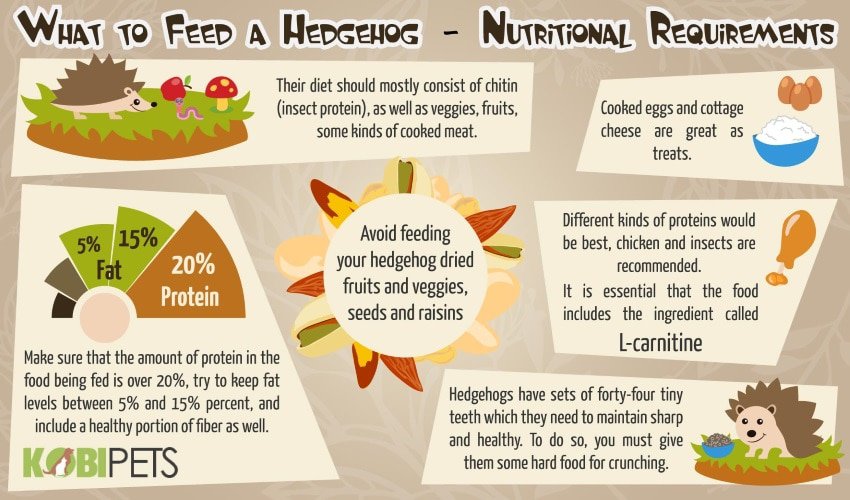 This also means that considering what we feed them as pets requires serious thought. A healthy mix of protein, fat, carbohydrates, fiber, water, etc. is essential for your hedgehog's wellbeing. Make sure that the amount of protein in the food being fed is over 20%, try to keep fat levels between 5% and 15% percent, and include a healthy portion of fiber as well. And there you have it! A perfect mixture.
That's all according to the extensive research done by Dr. Graffam. The studies performed at the Brooklyn Zoo concluded that cat food fed to a hedgehog ought to be supplemented with an additional amount of fiber. Hedgehogs have sets of forty-four tiny teeth which they need to maintain sharp and healthy. To do so, you must give them some hard food for crunching.
Different kinds of proteins would be best, but for efficient digestion chicken and insects are recommended. It is essential that the food includes the ingredient called L-carnitine, cause it is crucial for your hedgies health. If it does not, you can always supplement it, but I would recommend checking what the right amount is with your exotic vet first.
Avoid feeding your hedgehog dried fruits and veggies, seeds and raisins cause they can easily get stuck in its throat.
Why People Avoid Buying Commercial Hedgehog Food?
There is an abundance of different hedgehog food brands out there. The wide range of options can leave you baffled. There is one presumption that you should avoid making, and that's assuming that hedgehog food is nutritionally ideal for your hedgehog.
Current hedgie food available doesn't suit your pets dietary requirements as well as it should. It lacks essential nutrients and contains a lot of harmful nuts and raisins which can be detrimental. As we have mentioned, they are easy to choke on and can also cause obesity in physically inactive hedgehogs.
Some other reasons might be that having hedgies as pets is relatively a novelty and that it is still illegal to keep them as pets in many states. Even if you are adamant about buying it, it is not so easy to find and is usually expensive.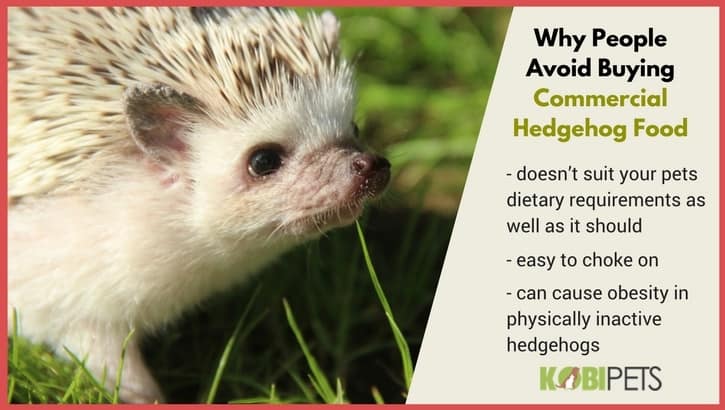 Pets store owners know that a very small number of their customers keep hedgehogs. It's just not worth the bother for them. That's why hedgie breeders and owners have been relying on other sources of nutrients needed for a healthy hedgie diet. Mostly quality cat food.
The label is not as important as the ingredients. Another major downside is the fact that exotic pet food ingredients don't have to undergo strict quality control like standard pet food.
Cat Food vs. Commercial Hedgehog Food
It is important to note that no one knows specifically how much of what hedgehogs eat. Therefore a perfect commercial hedgehog nutrition formula just doesn't exist. Current brands of commercial hedge food have been tailored according to the presumptions about their diets we've made so far. Scientists consider them to be insectivores and omnivores, and they seem to be opportunistic eaters, but mostly have a taste for insects.
Most breeders will caution you against solely relying on hedgehog food because the ingredients are usually of inadequate quality. However, the quality has been on the rise since most quality brands have switched to all natural ingredients, but that goes for all pet foods.
Feeding a hedgehog solely with specialized nutrition products can make it obese. It contains a high concentration of nutrients and hedgehogs are prone to obesity. Breeders do recommend using hedgehog food as an occasional treat. Another downside is that specialized food is always made for a specific breed of hedgehog.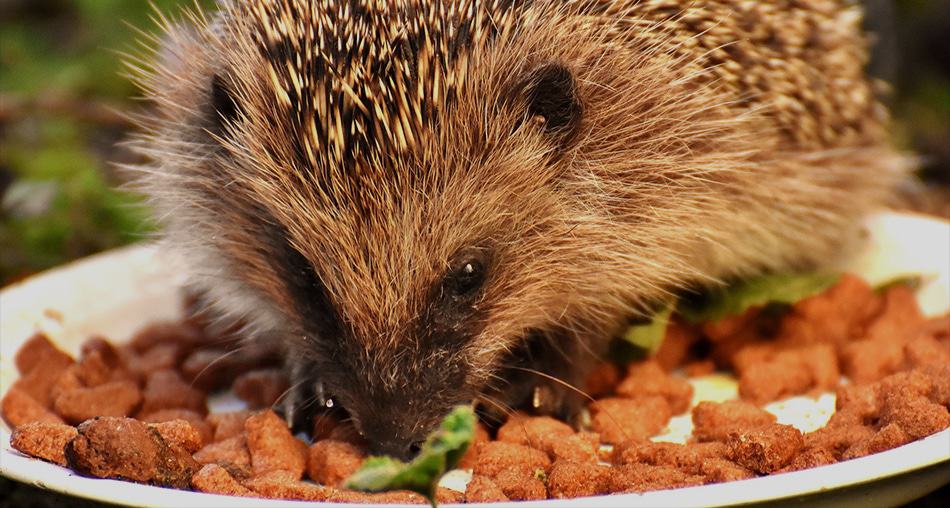 Dry cat food can be an excellent choice for hedgehogs cause of the protein to fat ratio it possesses it is suitable for the dietary requirements of an insectivore. It has been on the market for a while, and there's much more competition between quality brands, so it is easy to get, and we don't need to worry about the quality of the ingredients. Legal regulations on cat and dog food are quite solid.
Many breeders advise us to mix various types of adult cat food for best results. Cat food can serve as an additional source of fiber as well, but you must be careful not to overfeed them when starting out, again, because of obesity. If you opt for it, It would be good to occasionally supplement the cat food with insects, fruits, and veggies that are not dry.
Our Verdict - Which product We Like the Best?
Since most breeders and hedgehog owners are not willing to test out many different packs and want to make sure they are getting top quality nutrition for their hedgies, we must settle with Chicken Soup for the Kitten Lover's Soul Canned Food.
It has one meat source and one meat meal source listed as it's primary ingredients. Those are chicken meat and chicken meal. That's something that tells us a lot about its quality and is always something to look for when choosing pet food.
According to law, named meats (such as chicken) have to come from slaughterhouses that process meat that is strictly used for pet food. There is also no additional unnecessary content that can only make a hedgehog obese. Aside from having an optimal balance of protein and fat, the source of fat is high-quality preserved chicken fat. Make sure to supplement your hedgie's diet with mealworms.