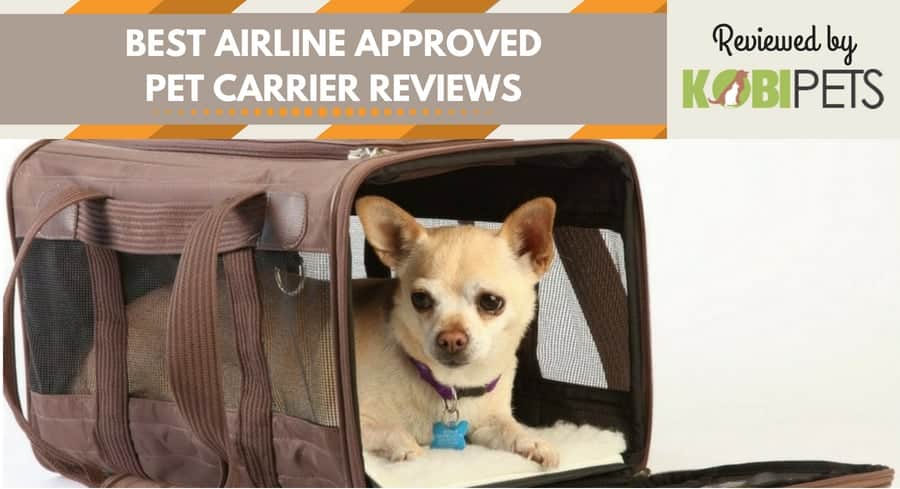 If you have a faithful furry companion, then you probably know how important it is for you to provide them the best comfort possible when it comes to traveling or visiting unfamiliar places to them. Furthermore, if you're a frequent flyer, you cannot take your pet along if you don't have an airline approved pet carrier.
Many owners simply buy the first carrier they stumble upon, and that's a huge mistake. You have to be familiar with your dog's needs and most importantly – their comfort zone.
One might say- "But, I bought the most expensive one! I can't believe my dog doesn't like it!" It goes to show how irrelevant the price is in the whole equation. Instead of looking for super-expensive models, you should think about your pet's preferences and try to make them feel as comfortable as possible.
If you're interested in buying a quality model, take a look at our reviews, and you might find something of interest.
Top Rated Products on The Market
Sherpa Deluxe Pet Carrier
When it comes to comfort, style, and cost efficiency, the Sherpa Deluxe Pet Carrier is among the best.
It has more than enough space for your four-legged friend, a great deal of comfort, and most importantly – it's quite affordable.
Ventilation is at a pretty high level, which is quite important, especially if you're traveling for hours. As you may know, your companion's well-being is something that should be of utmost importance.
Luckily, this particular airline pet carrier is versatile and good enough to meet the said requirements.
As far as the safety goes, the U-shaped zipper ensures top levels of protection.
While many people think it's irrelevant, storage is something you should keep in mind as well. For example, if your dog likes chewing their special toy from time to time, you should keep it within reach instead of packing it in a suitcase with your other stuff.
No matter how trained your dog is, there is always a possibility that they will get restless, especially in an airplane. To avoid unpleasant scenarios, you should always keep their favorite toy within reach. Therefore, the benefits of side-pockets are pretty obvious.
One of the most important things about this particular model is the fact that it's approved by airline companies. There are three sizes you can choose from – small, medium, and large.
Pay special attention to the size because it's the parameter that affects the overall comfort level. In simpler words, don't buy a small-sized one if your faithful companion weighs more than eight pounds because you'll jeopardize their health and well-being.
If you're looking for a stylish piece with a satisfactory level of features and safety, don't hesitate to check this particular model out, it may be the right thing for your pet.
OXGORD Airline Approved Pet Carrier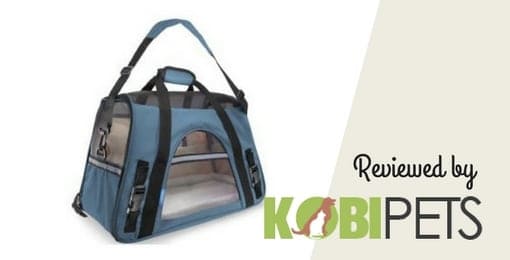 The OxGord brand is one of the top-rated ones by the consumers. When you decide to opt for one of their models, you can rest assured that it thrives in quality and comfort.
Safety is also at a pretty high level, especially when it comes to this particular model.
The design is not bad. The most notable feature of it is the ability to access your pet without the risk of them escaping.
If you have a feisty dog, then you probably know how important this particular feature is.
No one wants to cause a flight delay because of their pet's restlessness. Luckily, you won't have such issues with the OxGord Airline Approved Pet Carrier.
The materials used in production are durable, breathable, and most importantly – they don't cause any irritation whatsoever. The removable fleece bed is the thing that makes this model different from the others.
The benefits are obvious – you don't have to look for blankets of a particular size and spend money on auxiliary accessories. As far as the storage goes, there are plenty of pockets you can use for food, toys, or even medication.
As we already said, the safety is at a pretty high level. The safety belt strap allows you to restrain the model with a vehicle seat belt.
Therefore, you can put a seatbelt on it without having to purchase an additional accessory; it's already integrated and included. The locking zipper is a neat feature because it prevents your favorite furry creature from escaping.
The only thing you should worry about is buying the correct size. As with all other models, it's crucial that you pick the right size. Because, if you don't – your furry friend won't like it at all. Furthermore, you're exposing them to severe health hazards such as contusions.
Mr. Peanuts Airline Approved Soft-Sided Pet Carrier
Beautifully Made and Easy to Set Up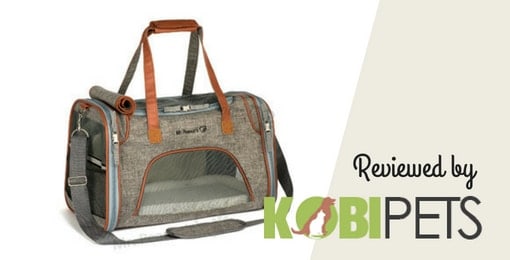 For pet owners with fashion-conscious pets, there is only one clear choice when picking a carrier – The Airline Approved Soft Sided Pet Carrier by Mr. Peanut's guarantees "Duchess" is traveling in style while keeping her safe and comfortable.
While there is no doubt this carrier is absolutely chic, it is very important to point out that the manufacturer did not sacrifice quality and safety in order to get a nice looking product.
This is a new and improved version that further develops all the strengths of the previous one while introducing some new features and slightly improving some of its known weaknesses.
After testing it out for a while, it's safe to say they did a great job updating this model.
Weighing only 2.7 pounds, it's easy to carry around and maneuver with. Lightweight but sturdy, this carrier does not compromise when it comes to durability and can handle animals that weigh up to 15 pounds.
The breathable mesh is placed on all sides including the top. This design allows for excellent ventilation but also is one of the biggest flaws of this model since the mesh can easily be chewed through.
Therefore, if your pet is known for nibbling things out of boredom – this might present an issue for you. Comfort-wise, there is an included removable fleece pad that is very soft and easy to clean.
Needless to say, your precious pet will have a very pleasant trip while lying down in this carrier.
You can clearly tell that the manufacturer listened to the feedback of its customers and greatly improved the quality of the zippers used on this updated version. The new premium zippers are much more reliable and won't break or get stuck so easily.
Not much has changed regarding the price, it's still one of the most desirable models out there for pet owners looking for great style on a tight budget.
Pawfect Pets Premium Pet Travel Carrier
Good Size and Cushy Interior
When it comes to well-ventilated models, the Pawfect Pets Premium Pet Travel Carrier is near the top.
Making a cozy environment for your companion has never been easier. One of the best things about this particular model is the ultra-durable claw-defense mesh.
In simpler words, while other models are most vulnerable in the mesh area, this one isn't.
The design is great. Apart from the non-tear mesh, it also has a lot of pockets, zippers, and belt buckles.
As we all know, the safety of your pet should be the primary concern. Thanks to the innovative design and well-placed seatbelt buckles, this particular model is considered quite safe.
The reflective strips are a neat touch, especially if you're carrying your furry buddy at night.
The base is solid, and it won't sag. A lot of other models tend to sag up as soon as you take your companion out. However, thanks to the firm base plate, this particular model keeps its shape at all times.
The size is approved by most major airline companies meaning it fits perfectly under the seat. Therefore, whether you're flying with United, Virgin, or any other company, you'll always be able to take your furry friend along.
As far as the price and affordability go, this model is among the rare top-quality ones that retained the affordability aspect. Many high-end models cost up to $100 easily, while this one is far cheaper.
One cannot say it's a cheap piece of equipment per se, but the amount of features, safety elements, and comfort justify the price.
Small cats and dogs love this particular model. Needless to say, you have to pay attention to the size of your companion before purchasing a carrier.
Make sure your four-legged friend fits without any issues or else you're going to jeopardize their well-being and make them uncomfortable. As you may know, a pet that doesn't feel comfortable tends to panic and cause a serious mess.
Petsfit Expandable Travel Dog Carrier with Fleece Mat
Expandable, Foldable and Washable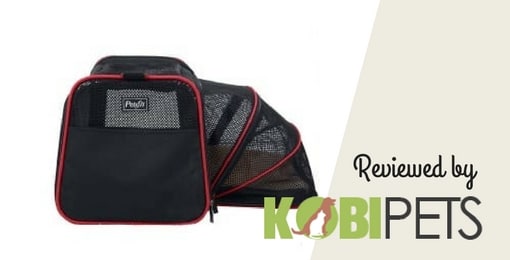 Expandable models are a special type for true pet lovers.
The main difference between these and regular ones is in the comfort levels with this one being much more comfortable. The extra available space is great for prolonged travels and long rides.
This particular model is for animals that weigh up to 13 pounds. Therefore, if you have a heavier furry friend, consider buying something with more available space.
Make sure your dog or cat feel comfortable and relaxed. The design is somewhat peculiar because of the extended space. In simpler words, it isn't as conventional as one might expect.
However, you won't need much time to get used to using this model.
As far as the storage goes, it's far from impressive. In fact, it's pretty subpar compared to some other models available on the market. The only pocket is located at the top of the carrier and secured with a zip lock.
While it is big enough for treats, leashes, medication, and other, they could have designed it better. Or, at least add another pocket or two.
That being said, if you don't have the tendency to carry a lot of stuff for your favorite creature, this model should offer more than enough space for necessities.
One of the most notable things about the design is the fact that it can be folded completely flat. It's a great feature, and it's appreciated by many pet lovers because it saves a lot of space.
The fabric is durable but not scratch resistant. Therefore, if your dog is a chewer, the mesh probably won't hold up for long.
The included pads are machine washable meaning you won't have to do anything besides tossing it into the washing machine. Make sure to set the temperature to "low" because it will shrink on "high."
Sleepypod Air In-Cabin Pet Carrier
High Quality Product for Frequent Travelers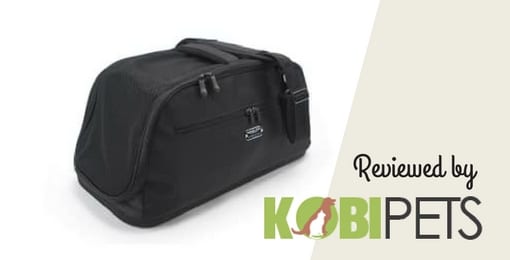 If you have a slightly larger pet (up to 17 pounds) this model is the one you should consider checking out.
It meets most airline requirements, is comfortable, and most importantly – the safety features are great. It's also crash tested and certified by CPS.
Therefore, as far as safety goes, it's one of the best ones around.
The design is pretty conventional and comfy. The model features two large zipper pockets on each side – a great thing for stuff like treats, meds, and more.
As you can assume, storage shouldn't be an issue when it comes to the Sleepypod Air In-Cabin Pet Carrier.
It weighs around 4 lbs – which is not great.
There are some models on the market that are much lighter than this particular one. However, if you take a moment and think about it, even 4 pounds isn't particularly heavy.
One of the things people like about it is the fact that they don't have to think about whether it will fit under the seat.
It's designed so that it fits under a vast majority of plane seats, regardless of the company you're using. Cleaning is a piece of cake when it comes to this model. The exterior parts can easily be wiped with a damp cloth, while the ultra-plush is machine washable. Due to its vast size, you can even fit two smaller dogs inside without causing any inconvenience.
Ventilation is something they could have done better. In fact, it's pretty underwhelming, to say the least. While many other carriers have good ventilation, even the cheap ones, this one is pretty weak in that department.
It doesn't mean your four-legged friend is going to suffocate, but they could run into problems, especially during the summer season. Therefore, think about whether it's worth investing in a carrier with subpar ventilation.
Teafco Argo Airline Approved Aero-Pet Carrier
Good Investment for Your Fellow Traveler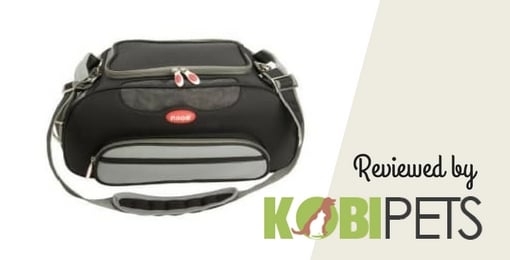 If you're looking for stylish accessories, this particular carrier might be an interesting thing to look at. When it comes to trendy design and vivid colors, the Teafco Argo takes the win.
While it's not designed for big animals, small dogs and cats fit comfortably without any issues whatsoever.
As we said, the design is probably the most interesting one we've reviewed. Apart from being able to choose from a variety of colors, you can also put your trust in the safety of it.
Zip locks and belt clips are placed in a correct manner meaning you won't have issues with tangling. It also has two convenient handles so that you can carry the bag without issues.
The shoulder strap is also a great alternative if you aren't willing to use your hands.
The storage space is at a satisfactory level. There aren't too many pockets, but there's more than enough room for treats and other necessities. The front access opening is the preferred concept among consumers, although it could use a rear one as well.
One of the first questions people often ask is – "Is it foldable?" The answer is – yes, but it could be more foldable, especially the top part. But, because the model isn't too big, you probably won't mind it.
A thing most people don't like is the premium price. However, you have to expect a slightly heftier price than usual because it's a high-end model made by top-quality standards.
As you may know, quality doesn't come cheap. Apart from the price, people also complain about the shoulder strap by saying it could have been more comfortable. While it's more a matter of personal preferences, it's worth mentioning so that you know what to expect if you opt for this particular model.
What to Look For in Airline Approved Pet Carrier
A lot of people simply don't know what to look for in an airline approved pet carrier, and they end up buying the one they like instead of thinking about comfort and efficiency.
We have made a list of the things you should pay attention to so that you avoid any unpleasant surprises and redundant purchases. Remember – it's not about you but your buddy's well-being; therefore, choose appropriately.
Wheels
Some models have wheels to mitigate the maneuverability. While it's a matter of personal preference, wheels can be quite useful, especially if you have weak hands or shoulders. Therefore, women and seniors should definitely consider buying a carrier with wheels.
Velcro vs. zippers
Once again, it's a matter of personal preferences, but zippers are probably a better solution. The reason is pretty simple – your companion won't be able to escape regardless of its temper. However, if you opt for the Velcro method, bear in mind that playful and feisty pets can unlock Velcro systems with ease.
Ventilation and storage
Ventilation is probably the most important aspect of every model. Therefore, you have to pay special attention to the number of ventilation gaps, quality of the mesh, and the position of zippers. Try avoiding products that lack ventilation openings because it can seriously jeopardize the health of your faithful furry companion.
The size
Beside ventilation openings, the size is also extremely important. Buying a model that's too small is as bad as buying one that's too big. Therefore, you have to know exactly which size suits your pet in order to avoid any predicaments.
Luckily, most manufacturers offer a graphic representation of available sizes meaning you won't have to hassle with measuring and weighing. All you have to do is search for the pictures that are probably located on the official website.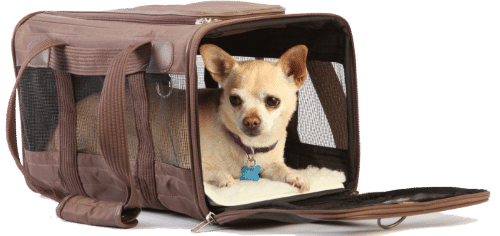 Durability and materials
As you know, it's all about comfort and efficiency. However, if the carrier isn't made of fine materials, the comfort aspect suffers a lot. In simpler words, your pet won't feel comfortable while surrounded by materials that can cause irritation or rashes.
The best way to know whether an airline approved pet carrier is comfortable enough is to check it out in person. If it feels good on your skin, it will feel good on your pet's fur as well.
However, many people order these things online and are unable to check them out in person. In that case, you have to search for information in the specifications department.
On the other hand, some manufacturers simply don't point out the materials they used in the production.
There is a simple solution for the problem – send them an email and ask them, they should provide an answer as soon as possible. Don't rush with the purchase; it's not worth it.
Research the brand
Before you even start reading about a particular model, conduct research about that particular brand. User impressions are the most genuine way for you to know whether something is worth checking out.
Also, pay attention to the reputation of the brands that you're considering. Reputable brands tend to ask for a heftier price, but it's always worth spending a few bucks more if it's going to create a sense of security and trustworthiness.
Respect your pet's reaction
People often buy a carrier and find themselves in a dire situation if their pet refuses to cooperate for whatever reason.
As we already said, you should think about your furry friend instead of the price or aesthetics. There is no need to stress out if your pet doesn't like its new mobile home.
All you have to do is return it back to the manufacturer and ask for another model or a refund. A vast majority of well-respected companies will fulfill your demands without too many questions asked.
Airline Company Sizing Requirements
Even though many airline companies approve pet carriers, a vast majority of them have strict rules when it comes to the size of it. Here are some of the rules of well-respected companies so that you don't have to look for each one individually.
United Airlines
The information we provided is susceptible to changes. Therefore, the best way to check the allowed dimensions is to contact the company. They will provide you with exact parameters, requirements, and prices.
Most airline companies have quite similar rules when it comes to animal transportation. You can draw conclusions by yourself, but we always recommend contacting the particular company and asking them in person. That way you'll be sure about the rules and avoid any unpleasant surprises.
The maximum allowed dimensions for hard-sided carriers are (LxWxH) 17.5 x 12 x 7.5 inches.
Maximum allowed dimension for soft-sided models are 18 x 11 x 11 inches.
Because soft-sided carriers are usually highly adjustable, United Airlines tolerates slight variations in size.
American Airlines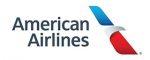 Maximum dimensions both for hard and soft-sided models are 19 x 13 x 9 inches.
The company tolerates a slight overstep in dimensions, but only for soft-sided models.
The price for the service is around $125 per kennel. However, it's susceptible to changes; therefore, be sure to check the price before traveling.
Alaska Airlines

The dimensions for hard-sided models cannot exceed the maximum of 17 x 11 x 7.5 inches.
As far as the soft-sided units go, the dimensions are 17 x 11 x 9.5 inches.
The price revolves around $100 each way. Alaskan Airlines offer a convenient option of having two pets of similar sizes in one carrier. They have to be of same species though.
Delta Airlines

In order to get the allowed dimensions, you have to contact the company. It depends on few things, but two most important ones are your destination and the size of the aircraft.
If the dimensions of the model you own meet the requirements, you'll have to pay around $125 each way.
Jet Blue
This company allows you to travel with a carrier that's a maximum of 17 x 12.5 x 8.5 inches in dimension. Also, the combined weight of your pet and bag cannot exceed 20 pounds.
The price is around $100 each way.
Southwest Airlines
The max. dimensions for both hard and soft-sided crates are 18 x 8.5 x 13.5 inches.
They allow two pets to travel in one carrier, but they have to be of same species and similar in size.
The price is $95 each way.
Things to do
Other Airline Regulations to Consider
Even though most models are approved by many airline companies, there are some basic rules you should pay attention to before opting to travel with your four-legged friend.
We have made a list of the most important elements you should think about so that you avoid any unpleasant surprises on the airport.
Most airlines require the carrier to be of appropriate size. In other words, your pet needs to be able to stand up and lie down without any issues. Comfort is the number one thing, and airline companies won't tolerate the lack of it.
The product needs to be in good condition meaning no visible tearing, scratches, and cracks. Bear in mind; they have the right to reject you without a detailed explanation.
The animal must stay IN the carrier during the whole flight. Releasing the animal is not allowed, and it won't be tolerated.
Book your flight in advance! Most companies allow only a few animals on board per flight meaning you probably won't find a seat if you make last-minute reservations.
Pay a visit to the vet before flying. Make sure you own all the needed certificates and permissions. Vaccination against rabies and other dangerous diseases is mandatory.
The box needs to have ventilation openings on at least two sides. It also has to be leak-proof.
The rules vary depending on the company. The ones we mentioned are somewhat universal and standard. Therefore, even if you read this article, make sure to check with the company before booking a flight.
Many people stumbled upon an unpleasant surprise because they didn't study the rules. By getting informed you'll save a lot of time and most importantly – money.
Conclusion: Think Twice Before You Decide
Traveling with your faithful buddy is one of the most amazing experiences. However, you have to make sure they feel comfortable and cozy, especially if it's a long trip. The models we've reviewed offer a great deal of quality, comfort, and cost-efficiency. Furthermore, they are all affordable and available even for people on a strict budget.
Take a moment and look around, you might find the thing you're looking for. It's important that you remember to pay attention to some crucial elements such as ventilation, material, size, price, and overall usefulness of a particular carrier.
If you invest enough effort and attention, you'll make your furry friend happy and more loyal. In the end, it's all about having a great time with your four-legged companion. In order to do that – you have to invest in a high-end airline approved pet carrier.