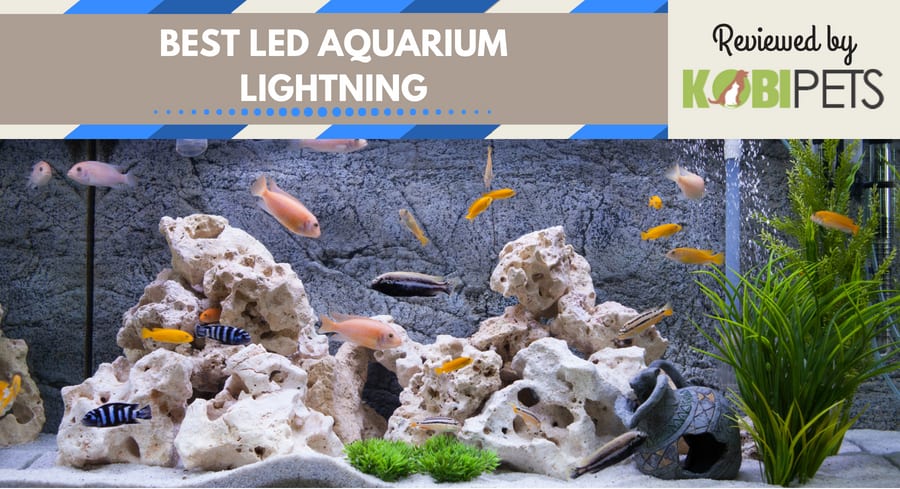 No matter if you are a novice or experienced aquarists, keeping up with the latest trends can be difficult with LED technology evolving so fast. Fishkeeping is an amazing hobby that has been somewhat exclusive in the past few decades.
Nevertheless, it has been gaining in popularity thanks to an abundant amount of new equipment available which is more affordable and sustainable. Thanks to new LED aquarium lights, you can say goodbye to enormous electricity bills and enjoy your precious pet fish as much as you like.
Now not all LEDs are made equal so how can you tell which ones are worth your money? Fear not, we did the research for you.
To help you out, we compiled a list of 10 best LED lights for freshwater and saltwater planted aquariums and even selected 3 of them which are our absolute favorites.
Best led Lights for Aquariums
Current USA 18″-24″ Satellite Plus PRO LED Light
Starting things off, we cover one of the best models on our list when it comes to freshwater fish tanks.
Current is a well-known manufacturer and is famous for delivering finished products that offer top-notch performance and last longer than its competition.
The Satellite Plus Pro LED Light is one of their best selling models and for a good reason.
It comes in various sizes so you'll have options to find one that fits your aquarium when picking up one of these models.
It has a fully adjustable color spectrum with a bunch of gimmicks like the various modes that can create certain light effects.
If you're going for a cloudy and stormy day effect, the Satellite Plus Pro LED aquarium light got you covered.
However, gimmicks aside, what we loved about this model is the intensity of light it provides and the ability to dial it up and down via a very responsive remote. This makes it easy to use and amazing for various types of plant life.
OceanRevive® Arctic-T247 Full Spectrum Dimmable 120W LED Aquarium Reef Light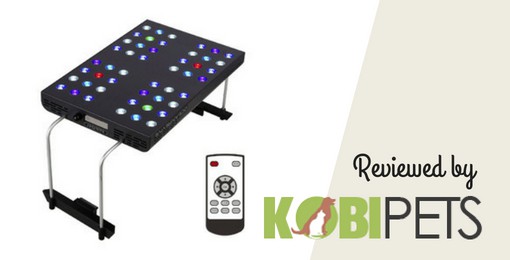 Treading into saltwater territory, we start things off with a feature-packed model that outshines its competitors with ease.
The OceanRevive® Arctic-T247 Full Spectrum Dimmable 120W LED Aquarium Reef Light can be used both for freshwater and saltwater fish tanks, but it is a big favorite among marine life devotees.
This is because it is highly effective at successfully growing corals because it can emit a 450 nm spectrum Royal Blue color which is ideal for photosynthesis and looks very nice.
Along with that, you can choose from Blue 470nm, Cool White 10000K, 12000K, Red 520nm, Green 660nm, and UV 420nm in order to target those desired wavelengths on the lower A spectrum.
Since this is a model with a lot of features, it comes with a nifty remote to allow you to utilize all of them.
A built-in timer is something that is expected from a higher-end model like this one and it will help you enjoy your beautiful aquarium without worrying if your plants and fishes are getting enough light.
Current USA Orbit Marine Aquarium LED Light

This is another model from Current, this time specifically made for saltwater aquariums.
It features a sleek design with very bright lights that will make your corals look amazing and pop.
As with the previous model, it also has multiple modes you can use and even ones that are dynamic and change over time.
The aquarium light bulbs have a wide angle dispersion, make sure to cover the entire surface and reach every nook and cranny of your tank.
Current also integrated their unique LOOP system which syncs the lights and the pumps, giving you entire control of what happens inside your tank at the touch of a button on your remote.
With the built-in timer, you can program your own schedule, but there is also a default one that can work just fine. Overall this is a great model if you don't mind the price tag that goes with it.
Finnex FugeRay Planted+ Aquarium LED Light Plus Moonlights
It is evident that Finnex was going with a minimalist style when designing their new FugeRay Planted+ LED lights.
This ultra-slim fixture comes in multiple lengths so it can seamlessly fit on top of tanks of various sizes. When we first laid our eyes on this model, we were somewhat discouraged by its small size and frail looking frame.
However, upon further inspection, we found that the build quality was very solid and that the light output could easily fit in the medium intensity category, although more suited for plants that require low light.
The LED bulbs have a pretty even dispersion and cover most of the surface even on bigger cube shaped aquariums.
You can use normal mode, which is 7000k White LED bulbs combined with true 660nm red LEDs, but there is also a moonlight mode which activates the blue LEDs.
For a reasonably priced model, the Finnex delivers a solid performance and is a great low- to medium-light fixture.
Beamswork DA FSPEC LED Aquarium Light Pent Freshwater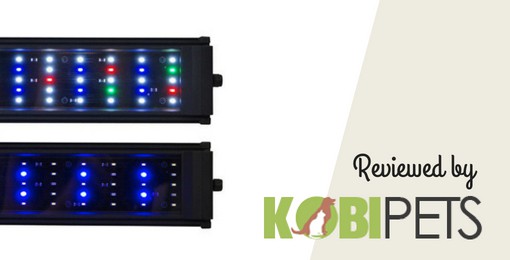 The new and improved DA FSPEC LED Aquarium Light Pent Freshwater 0.50W from Beamswork is an excellent mid-tier choice for those who want to avoid cheap quality lighting systems, but can't quite afford a model from a better known named brand.
Right out of the box, you can tell that Beamswork improved every aspect on this newer model, achieving a well-rounded freshwater aquarium light fixture.
The predominant 10000K combined with the red and greens, do an excellent job and their intensity is suitable for medium tech plants.
While the fixture itself was easy to set up and mount on the fish tank, we did notice that the plastic brackets that came with it were of a lesser quality that we would like them to be.
Still, If you're looking to get into LED aquarium lights and don't want to go the cheap route, consider getting this product and save on your electricity bill.
Also, consider buying a digital timer that's compatible with this system, it will do wonders for your schedule.
Current USA Satellite Freshwater LED Plus Light for Aquarium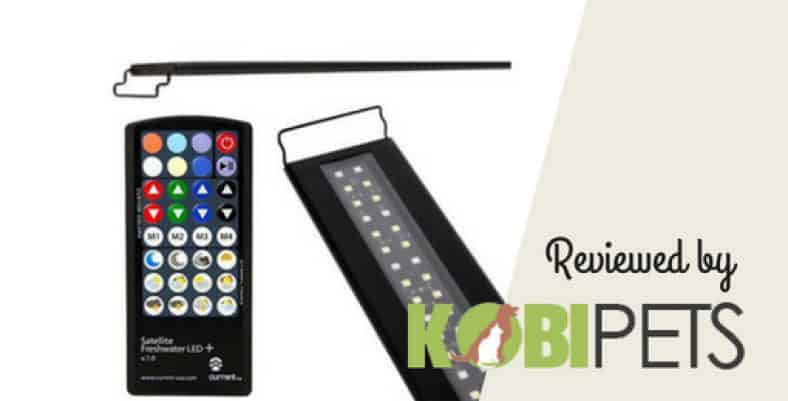 Although not as powerful as the PRO version we already covered, the Satellite Freshwater LED Plus Light is absolutely amazing for beginner plant growers and those looking to upgrade to a LED system.
It comes equipped with 6500k White LEDs which resemble natural daylight and can promote growth effectively.
These are paired with red, green, and blue LED's similar to the ones found on other Current models.
Multiple modes are integrated into this model as well, so you can play around with them if that's your cup of tea.
Gimmicks aside, the one thing you should be interested in is the intensity of light coming from this unit.
Compared to the PRO version, you can expect to have about 70 % of the intensity and a little less power consumption.
Taking into consideration that this fixture is almost half the price, it's safe to say that the Current Satellite Plus LED Light is a great deal.
VIPARSPECTRA Timer Control 165W LED Aquarium Light Dimmable Full Spectrum for Coral Reef Grow Fish Tank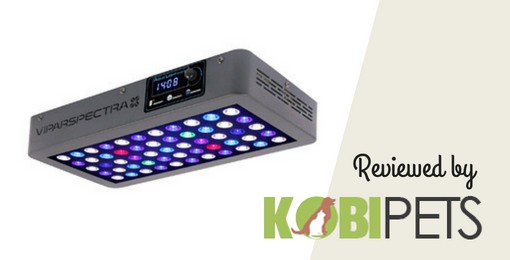 Shifting back to saltwater aquariums, we recommend taking a closer look at this unit from Viparspectra.
This full spectrum model comes with a custom layout and two programmable channels, allowing you to grow a wide variety of marine plant life.
Both channels have separate built-in timers you can adjust via the remote and to your liking.
On top of that, you can dial in the intensity to best suit the type of fish and plant life you have in your tank.
We had absolutely no problem setting up this unit as the manual that came with it was very precise and simple to understand even if you're a complete novice.
All this makes the ViparSpectra 165W LED Aquarium Light a great choice if you're just starting out with saltwater aquascaping.
Beamswork DA 6500K 0.50W Series LED Pent Aquarium Light Freshwater Plant Discus
Another unit from Beamworks, this time featuring the 6500k white LEDs which are among the most common and favorite types of LED aquarium lights for freshwater fish tanks.
Their natural color makes them ideal for promoting plant growth but also gives an aesthetically pleasing look to the aquarium.
The white LEDs are paired with a smaller number of actinic blue lights, giving you some variety.
Depending on your personal preference, you can either use all the lights or switch one of the groups off.
This is definitely not a feature packed unit, but with a good timer and some effort, it can really outshine its competition in its price range.
Where it lacks in features, it makes up in intensity, offering a very nice and evenly spread beam of light.
If you're looking to save a couple of dollars and still benefit from using LEDs, then this model could be the ideal choice for you.
MarsAqua Dimmable 165W LED Aquarium Light Lighting
When it comes to growing saltwater plants, there aren't many units out there that can outshine the MarsAqua Dimmable 165W LED Aquarium Light without costing at least twice as much.
This is a full spectrum unit, with surprisingly good intensity considering it's reasonably priced.
The coverage is also great, thanks to the layout of the light bulbs and the size of the unit.
This is definitely not the smallest model on the market, and since it is not mounted directly on the fish tank, but instead hanged from the wall or the ceiling, you can count on it to tackle even the larger fish tanks with ease.
When it comes to saltwater fish tanks, there are so many factors that go into maintaining such a hobby that having a reliable light unit, that won't fail on you, is key to achieving success.
Keep these lights on for 12+ hours a day and those corals will grow in no time, but your electricity bill won't.
Phlizon 165W Dimmable Full Spectrum Aquarium LED Light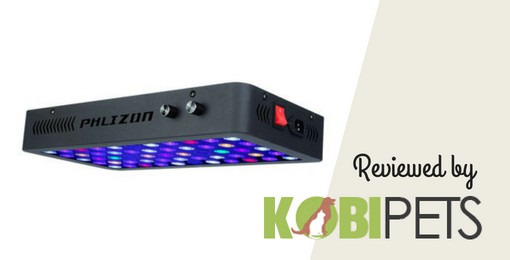 Last but not least, we have an affordable 165W model capable of producing some very good results.
The Phlizon 165W Dimmable Full Spectrum Aquarium LED Light comes from an unknown brand but, nevertheless, it performed stellar on our test.
This bulky unit managed to cover the entire surface of our 40-gallon fish tank without any trouble, and our corals were well on their way to excellent growth.
Setting it up was also a breeze since it ships with a free hanging kit and everything you need to mount it over your aquarium.
This is a full spectrum model with 6500K whites and some UV red, blue and green ones as well.
They are divided into channels so you have the option of switching them on and off to your liking.
One thing that is questionable is the longevity of this model. While it did fine during our short test, there isn't much information to be found about the lifespan of the unit.
The manufacturer claims the LED lights should last more than 50 000 hours and gives a 1-year warranty.
If you're unsure about buying this model, stick to some of the more popular units we listed above, otherwise, the Phlizon full spectrum aquarium LED light could save you some money while still decently lighting up your saltwater aquarium.
How to Choose the Right Light
Many variables come into play when choosing the right aquarium light fixture. LED technology is always a good option but, depending on the size of your tank, the frame of the fixture might be bigger or smaller.
Choosing to have a freshwater or saltwater aquarium will also determine what type of lights you use. Plantlife plays a vital role in selecting the right led aquarium lights.
Some plants need a medium strength light source, while other types only thrive under a low or high light. We're going to cover these variables in more detail so that you have a better understanding before making your purchase.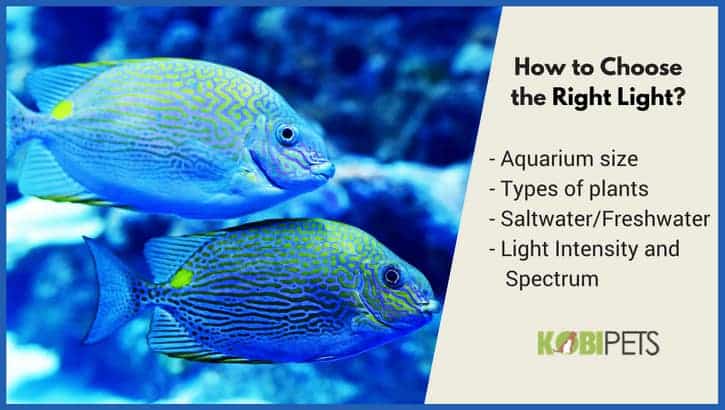 Aquarium size
Fish tanks come in many sizes so finding one that perfectly fits in your living space should be fairly easy, however, the shape will be one of the main factors when deciding on which aquarium light fixture to purchase along with it.
For example, the taller your aquarium is, the more light it requires. It is important to have a light source that can effectively spread and cover the entire surface.
On the other hand, if the aquarium is long, but only one foot tall, a medium led light should be sufficient, as long as the frame of the fixture is elongated.
Types of plants
Different types of plants can require a different intensity of light in order to grow and photosynthesize.
Not only that, but the number of plants you have in your fish tank can dictate what kind of LED system you need to efficiently provide them with light.
Also, it depends on what you want to achieve with your aquascaping.
If you're aiming for more growth, exposing your plants to a stronger light source and for a longer period of time will help you achieve this. If you want to slow down growth, try using aquarium led lights of lower power.
Saltwater/Freshwater
There is a huge difference in how you set up your LED lighting system for a saltwater aquarium compared to how you set it up for a freshwater one.
Saltwater tanks are equipped with beautiful corals that need a special actinic light. This fluorescent blue light is not that good for plants found in a freshwater tank.
Light Intensity and Spectrum
If we were to roughly separate aquarium light bulbs by the level of intensity, we could divide them into three categories: low, medium, and high strength.
Some models can be adjusted to your needs which means you can buy a LED system that features high-intensity lights, but you can also dial them down if the need arises.
The spectrum is measured in Kelvins and it dictates the color of the light. Freshwater plants are more forgiving and can utilize a wider spectrum than saltwater ones.
Anything from 5500-6500 will be ideal for them to conduct their normal activities, while saltwater corals need a special actinic light in order to flourish.
Frequently Asked Questions
Is LED light good for aquarium plants?
LED's are amazing and should be your number one choice if you just acquired a brand new fish tank and are looking to pair it with the best lighting solution.
If you asked us this question a few years back, the answer would probably be slightly different, but right now it's the fastest evolving technology out there, and it keeps on getting better and better.
LED's consume a smaller amount of energy compared to other lighting options while providing a larger amount of light and emitting less heat.
This makes them great for plants that are more sensitive to heat and won't make your electricity bill an unpleasant surprise every month. Also, they have a longer lifespan than their counterparts.
A led aquarium light might lose 1 % of its intensity every 15,000 hours. Years might go by before you need to completely replace them. There are also models that feature a full spectrum so any type of plant life can receive the necessary amount and color of light to grow and prosper.
Can I use any LED light for growing plants?
Even though plants can utilize a wide spectrum of light to conduct photosynthesis, it is important to know which LED lights to use for your fish tank.
You don't necessarily have to break your bank when making your purchase, but some LED lights found at your local hardware store are not optimized for growing aquarium plants and might not yield the expected results.
Buying products from reputable brands that specialize in manufacturing LED aquarium lights might seem like a big investment at the time, but at least you know you'll get your money's worth.
They offer quality and enough power to equally spread the light throughout the fish tank and efficiently grow your plants. For freshwater aquariums aim for wavelengths ranging from 2,700 to 10,000 Kelvin.
This will give your lights a red and bluish tint which is the color plants respond to best. Another thing to consider is the aesthetic effect you are aiming for with your fish tank.
While your plants might respond to a wide spectrum, you might prefer a certain color more than others. Most people enjoy 6000K-7000K aquarium light bulbs because they resemble natural daylight. You can also go for a more bluish look with anything over 7000K.
How many hours of light do my aquarium plants need?
A good rule of thumb to follow when trying to calculate how many hours you want to expose your plants to a light source is to figure out how much natural daylight they receive and then supplement it with your LED's.
This depends on the location of your fish tank and how close it is to a window. Also, the time of year can influence the amount of light since days are shorter in the winter.
Depending on what we want to achieve with our plants, we like a time frame of 10 hours a day.
If you want to promote growth, additional time can help prolong the photosynthesis process. Just remember not to overdo it.
On the other side of the spectrum is leaving your plants without enough light, resulting in a nearly irreparable situation. This is a much worse scenario since you're literally starving your plants.
The best way to handle this is to set a specific number of hours and be consistent. Some models of LED aquarium lights have a nifty feature in the form of a built-in timer which can turn the lights on or off automatically.
Do you leave the light on in a fish tank at night?
As previously mentioned, you want to expose your fish and your plants to a certain amount of light but definitely not 24 hours a day. If your plants are in a growing phase, you can extend the recommended 10 hours per day to 12 or 13.
Generally, plants can photosynthesize a maximum of 13 hours so anything above that is overdoing it. Some fish species require more light than others but all of them need some darkness as well.
When taking into consideration that fish need a lower light ambient to rest, we can conclude that leaving the light on during the night is not just unnecessary but should be completely avoided.
Another side-effect of exposing your fish tank to light for too long is the forming of algae. Excessive light promotes the growth of these organisms which can have a negative effect on your vegetation and your precious fish.
Algae will make your aquarium dirty and endanger the well-being of your pets. Limit the light exposure with a built-in timer or set up an alarm for yourself. In order to prevent algae from forming, remember to change the water on a regular basis.
How many lumens do aquarium plants need?
This will depend on several factors. While we can get an idea of what is the power output of our aquarium lights by checking how many Watts they use, lumens precisely indicate what is their exact light output.
This is especially important when dealing with LED lights since they convert more energy into light with less heat dissipation.
So by already knowing the volume of our fish tank and correlating that to the amount of light output per liter, which is measured in lumens, we get the idea of what lights we need to effectively cover all our plants.
Or do we? This is where another factor comes into play which is determined by the type of plants you are you looking to put into your aquarium.
If your plants require low light conditions, look for light bulbs that emit somewhere around 10 lumens per liter.
For medium light plants use a minimum of 20 and up to 40 lumens.
High light plants require aquarium light bulbs with at least 40 lumens per liter.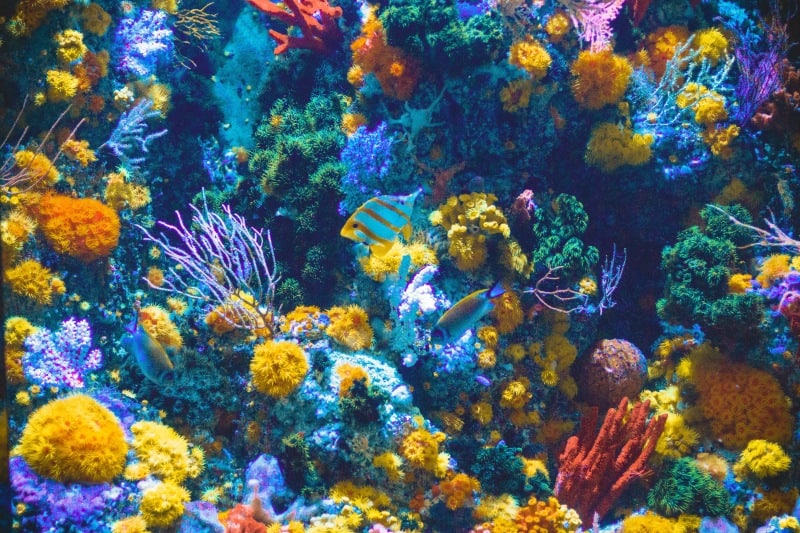 Do LED lights cause more algae in an aquarium?
No matter what lighting technology you use on your aquarium, exposing it to large intensity light source for an excessive amount of time will lead to algae problems very fast.
Whether it's LED or just a regular light bulb bought at the local hardware store, too much light promotes algae growth so make sure to do everything to prevent this from happening.
This includes having a consistent schedule during which the lights are on while leaving them off the rest of the time. Also, cleaning your fish tank on a regular basis and changing the water will further help with controlling algae growth.
Regarding your lights, there is some misinformation that certain blue wavelengths can cause algae to grow faster and completely overtake your plant life. There is absolutely no evidence behind this claim and, from our own personal experience, we found this not to be true.
You are free to use any light you want as long as you limit it to a certain amount and keep an eye on any signs of algae forming so you can react on time.
How to install aquarium LED light?
Most of the models we covered here on our list of best LED aquarium lights come with some form of supporting brackets or hanging kits. Instructional manuals are usually well-written and will help you set up your new fixture in a matter of minutes.
These are highly adjustable and can easily be adapted to perfectly fit your fish tank. Just make sure to buy the adequately sized fixture in order to ensure that your entire aquarium is getting light evenly spread across the surface.
If you use a hanging kit and want to avoid drilling holes into your wall or ceiling, there is an alternative solution. Light hangers of different height can be easily found online but the price of them can vary.
You can also do a small DIY project over the weekend and create your very own light hanger that will give you a tailored fit for your fish tank. There is a bunch of instructional videos on how to do this and you don't need any previous experience.
Conclusion
To sum things up, as long as you find the right size light fixture and stick to a consistent schedule, you should be able to grow your plant life and allow your precious fish to thrive.
Of course, don't forget to distinguish freshwater from saltwater units. Fishkeeping is an amazing hobby that can be done on a budget which we proved with some of the items on this list.
However, bear in mind that you'll be limited to a low-tech planted aquarium because of the intensity of light that the more affordable models provide.
In the end, it comes down to what types of fish you want to keep in your aquarium, and how much time, money and effort you want to invest.