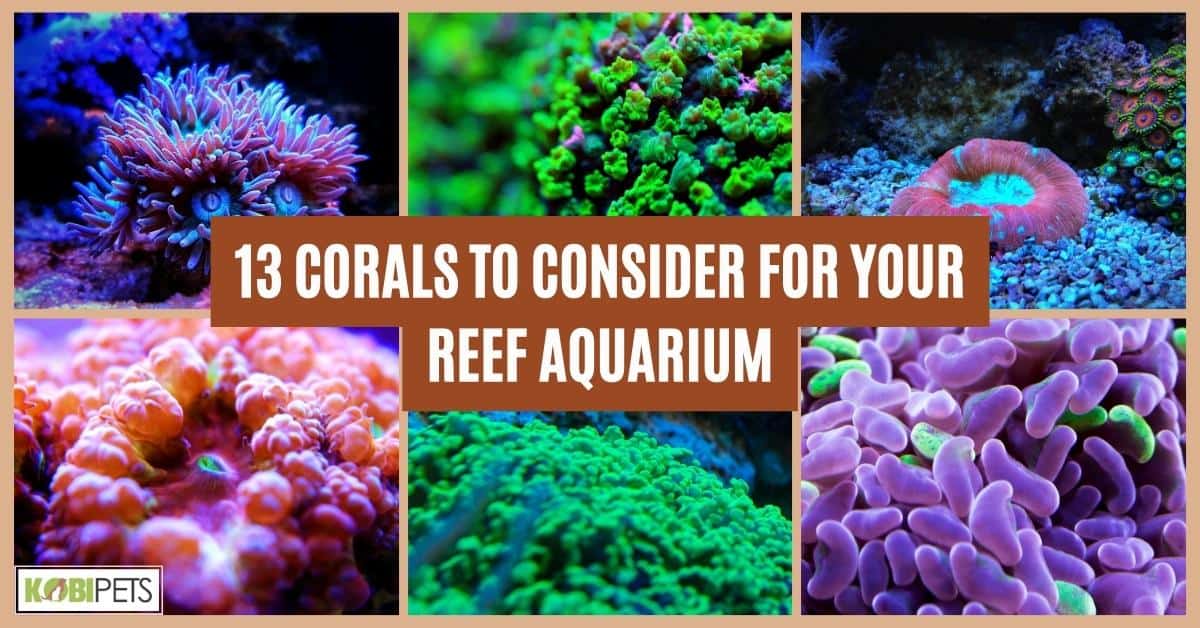 A thriving reef aquarium requires careful consideration of the types of coral you introduce to your tank. Not only must they be compatible with one another, but you should also evaluate their specific needs and abilities in order to ensure success.
To help you on your journey, here are 13 corals for you to consider for your reef aquarium! From popular Acropora and Zoanthids to the lesser-known Fungia Plate Corals, Ricordea Mushroom Corals, Hammer Corals, and more, we'll explore the different requirements of each species and help you determine which one is right for you.
Acropora Coral
Acropora coral is one of the most popular corals for reef aquariums due to its beautiful structure and incredible ease of care. Acropora coral comes in various forms, ranging from round brains to branchy torches, and usually grows horizontally in soft and shallow water depths. Its vibrant colors range from green, pink, and orange to yellow, blue, and purple.
Acropora coral grows quickly when provided with a suitable environment, such as ample light and nutrients with proper water flow. As it needs plenty of room to grow, it is recommended that you provide at least six inches between each branch where expansion might take place.
Zoanthids
Zoanthids are a highly sought-after addition to many reef aquariums. A Zoanthid is comprised of several soft polyp coral pieces that grow on a rock or substrate. It requires moderate water parameters, strong lighting, and plenty of flow for the best possible growth rate and coloration.
Its diverse range of colors can range from bright greens to deep purples and reds, making it a great centerpiece for any tank. They're also relatively hardy corals and require a minimal amount of maintenance due to their adaptability to different kinds of environments.
Zoanthids aren't fussy eaters either however it's important to supplement their diet with additional nutrients such as brine shrimp or plankton in order to keep them healthy.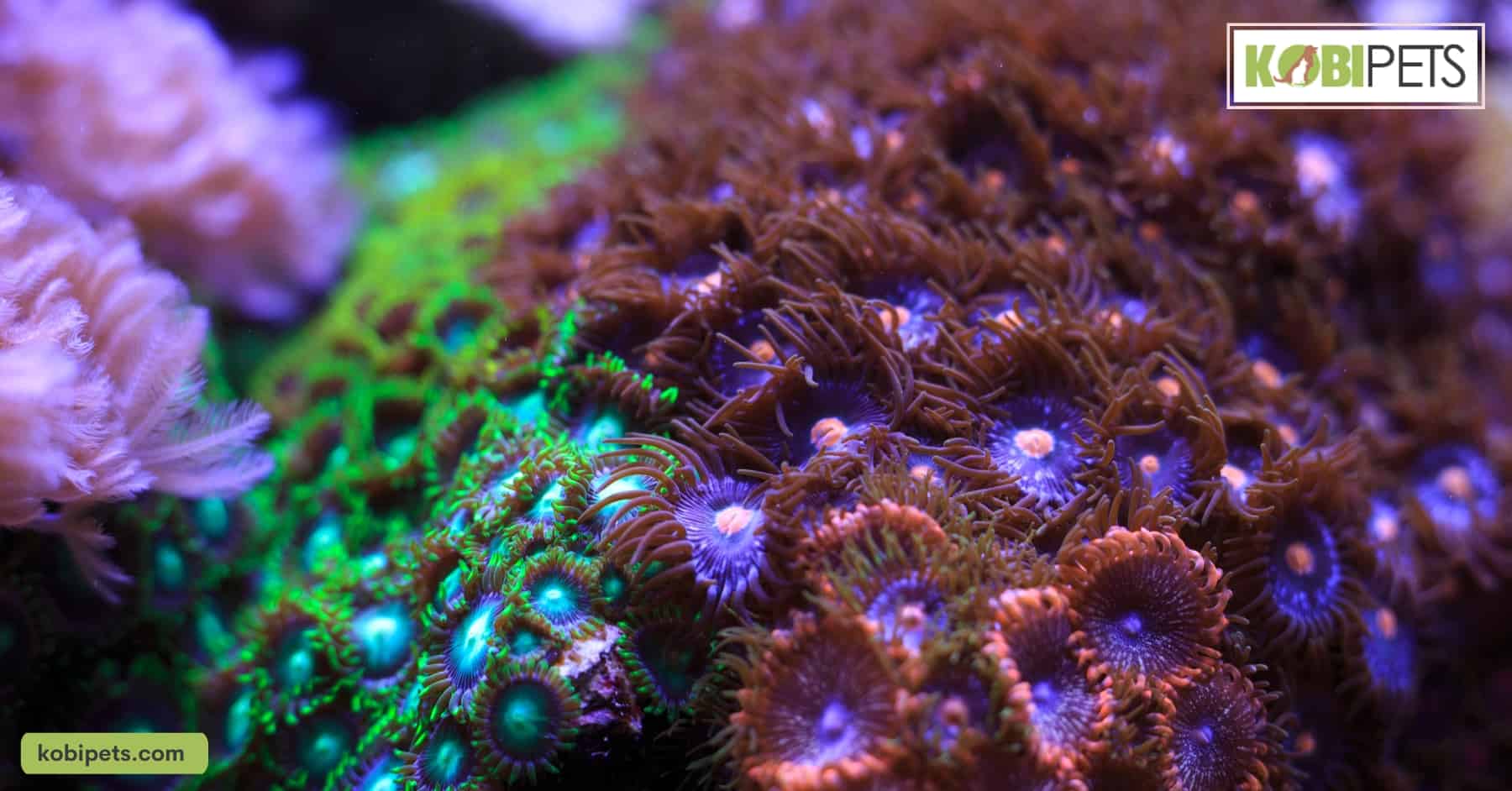 Fungia Plate Corals
Fungia Plate Corals are a common addition to reef aquariums due to their bold, eye-catching appearance. They can make an instant impact in your tank as they grow up to 8 inches in diameter with some specimens growing even larger.
Fungia Plate Corals also come in a range of colors, including yellow, green, and gray. They prefer moderate lighting that mimics natural sunlight and can be fed easy-to-find frozen fish food a few times a week. Not only do these corals add immense beauty to your setup, but they are relatively hardy and don't require complex maintenance routines either.
That said, Fungia Plate Corals can be sensitive to water movement so it is important to not expose them to high-flow areas or stand too close when using strong powerheads.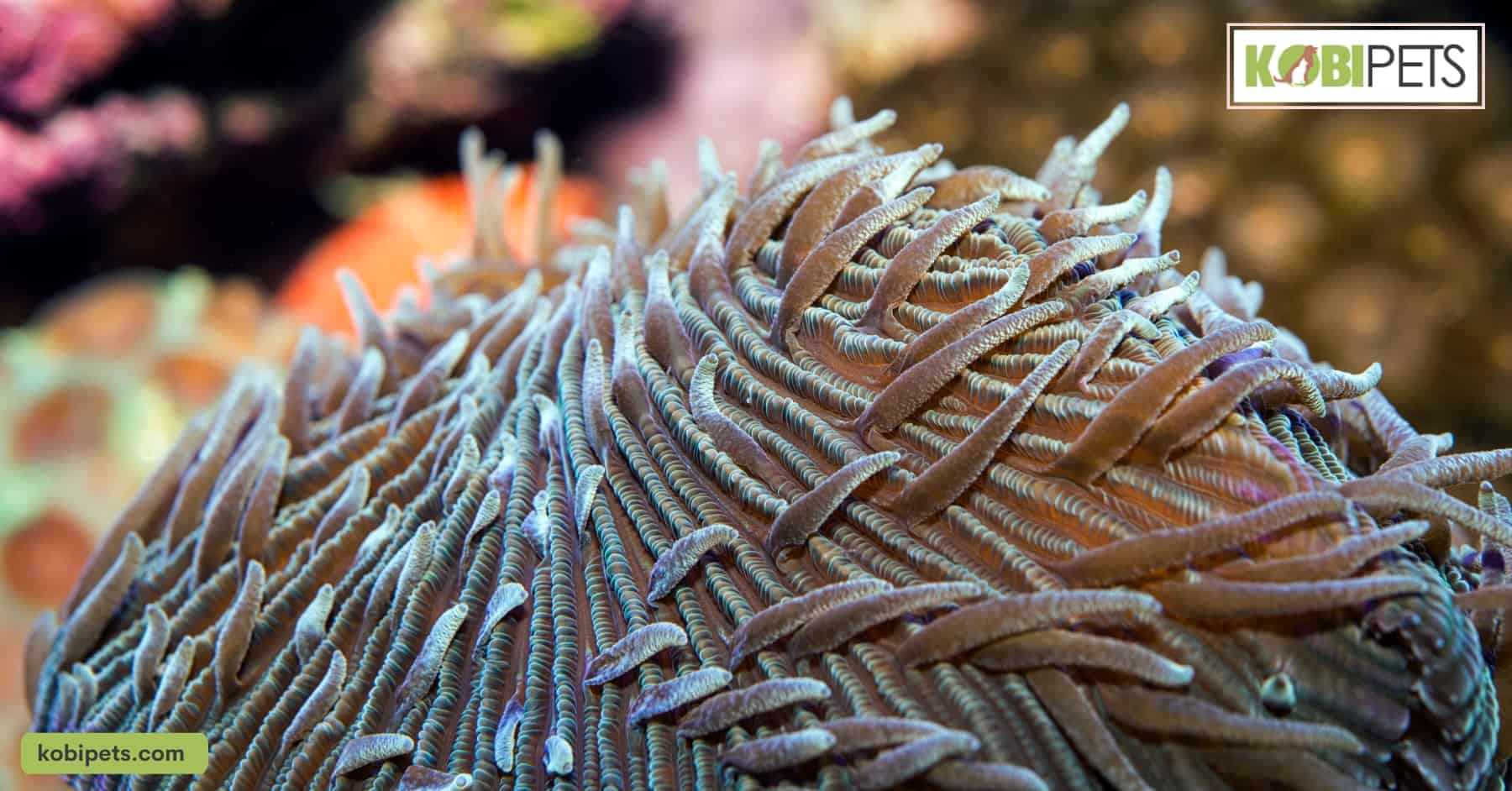 Ricordea Mushroom Corals
Ricordea Mushroom Corals are a great option for adding a spectacular splash of color to any reef aquarium. These corals are generally quite hardy, meaning they can adapt well to different water parameters and light conditions.
They come in a variety of color combinations, ranging from bright blues and yellows to deep purples and pinks which will look striking against an aquascape. In addition to their visually appealing qualities, Ricordea Mushroom Corals have very low maintenance requirements.
Their small size makes them easy to place in the aquarium and they do not require any particularly special care apart from regular cleaning of the substrate around them. All that is needed is moderate water flow and adequate lighting, making them suitable even for beginner saltwater aquarium owners.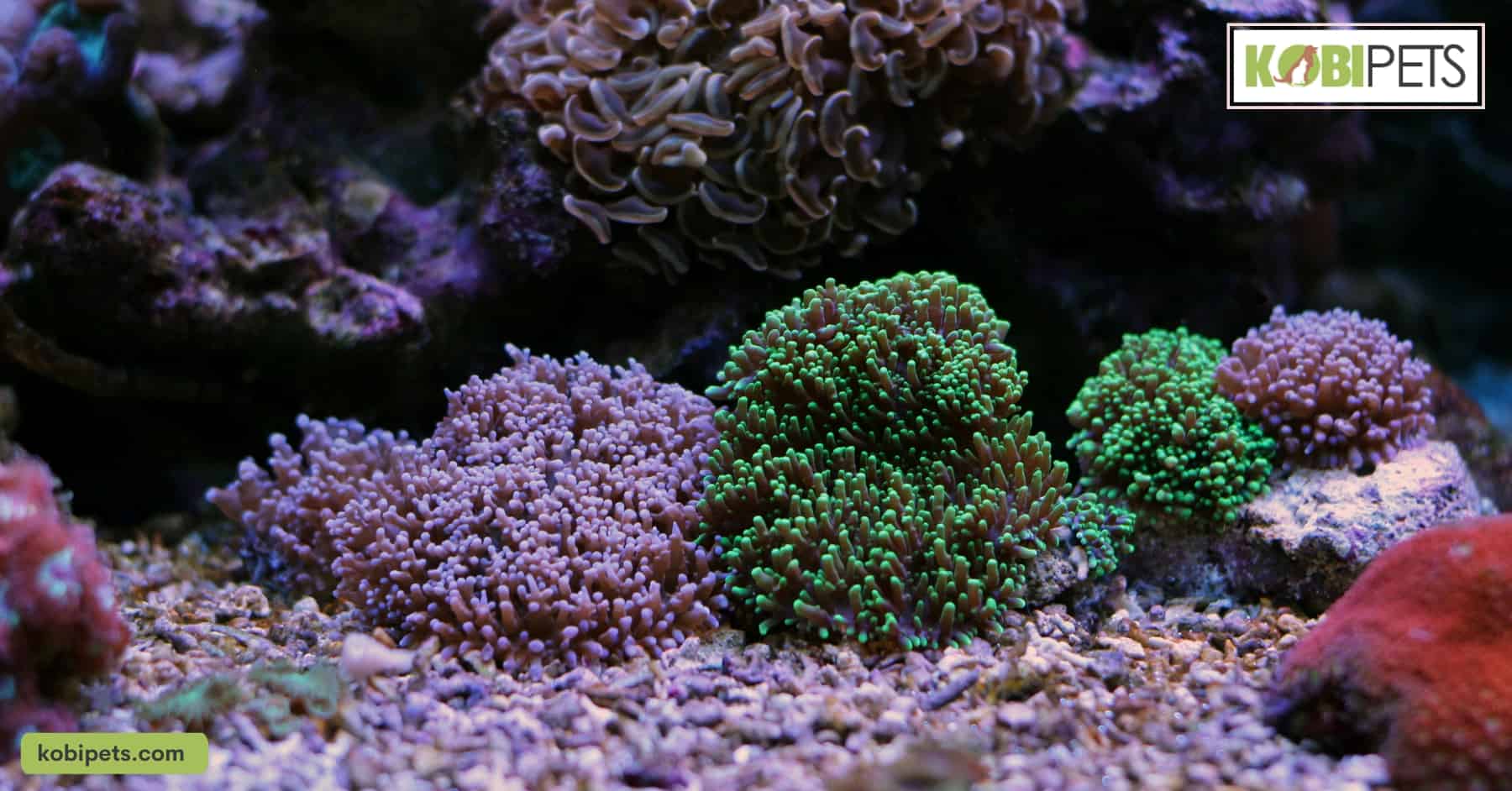 Hammer Corals
Hammer Corals, also known as Euphyllia Anchor, make stunning additions to any reef aquarium. These corals exhibit a unique branching behavior with thick polyps surrounding even thicker stalks. While this adaptation is suited for attaching to rocks, its beautiful structure also creates an eye-catching appearance.
The colors of Hammer Corals range from green, yellow, brown, and purple – brightening up the tank many times over. This type of coral requires intense lighting and moderate water flow for optimal growth. As such, experienced aquarists should have no problem providing suitable conditions for healthy and thriving Hammer Coral colonies.
Feeding these invertebrates should be done only in moderation due to their sensitive digestive systems. Nonetheless, when appropriately taken care of, Hammer Corals offer both a vibrant display and upstanding water quality to your home reef tank!
Euphyllia Torch Corals
Euphyllia Torch Corals are the perfect centerpiece for any reef aquarium. These stunning corals belong to the order Scleractinia and come in a variety of colors including bright pink, yellow, green, and orange.
They form intricate tentacles that sway with the tank's water current in hues of contrasting colors. The polyps vary in size depending on the species and they often have bright-colored tips that provide an added visual appeal.
Due to their unique appearance and coloration, Euphyllia Torch Corals make a great addition to any aquarium. Although larger than many species of coral, they require moderate care due to their slower growth rate, and they can thrive with little light and medium water flow.
Frogspawn Corals
Frogspawn Corals (Euphyllia divisa) are a popular choice for reef aquariums due to their hardiness and beautiful appearance. These large polyps stony corals have long, sweeping branches with a uniquely bubble-like appearance that adds visual interest to any setup.
Their tentacles form in stunning double tips at the ends of each branch, creating an impressive halo effect that can make for a spectacular centerpiece for any tank. In addition, its ease of care makes it ideal for both beginner and experienced aquarists alike, as it is quite tolerant of water parameters even when they fluctuate.
Lobophyllia Brain Corals
Brain coral, also known as Lobophyllia, is a type of large polyp stony (LPS) coral. This species of coral is easily recognizable due to its unique shape that resembles the cerebral hemispheres of the brain. They form colonies or colonies within colonies and will form thick structures that are typically vivid in color.
Various colors including brown, green, yellow, and pale purple can be seen depending on distribution and lighting conditions. Because these corals grow quite fast, they require frequent trimming but are generally not too demanding when it comes to water parameters or feeding requirements.
Lobophyllia Brain Corals are a great addition to any reef aquarium as they often make excellent neighbors with other corals as well as fish since they do not possess any stingers!
Goniopora Corals
Goniopora corals, also known as flowerpot corals, are a unique type of coral that is well-suited to any sized reef tank. This coral gets its name from the fact that it forms multiple round heads resembling flowers in a pot.
Goniopora corals require moderate light and water flow to stay healthy and need regular feedings of phytoplankton or zooplankton to achieve optimal growth. These corals are relatively slow growers, but with diligent care, they can produce beautiful and intricate patterns on their calcium skeletal structures.
Goniopora corals are known for their wide range of brilliant colors ranging from shades of green, purple and red, adding a vivid splash to your reef aquarium.
Blastomussa Coral
Blastomussa Corals are a type of soft coral that makes an ideal addition to any reef aquarium. These corals form large, colorful polyps with tentacles just like their stony cousins and the rich colors make them a very attractive centerpiece for your tank.
They thrive in well-lit parts of the tank and will look their best with moderate water movement. Blastomussa Corals grow quickly and are quite hardy compared to other soft corals, making them perfect for beginner reefers who want to start out right with something eye-catching and easy to care for.
Plus, they come in a variety of vibrant colors including blue, pink, yellow, and green.
Trachyphyllia Open Brain Coral
The Trachyphyllia Open Brain Coral is a fantastic choice for the reef aquarium. This type of coral hails from the Indo-Pacific coastal area and grows in large thickets that can engulf entire areas.
It is a colony-forming organism, meaning it will naturally split and form new heads. This not only allows you to keep more than one specimen, but it can also help your coral spread gracefully throughout your tank. Additionally, its vibrant coloring and varied surface patterns often attract attention from onlookers.
However, it does require some special care as these corals are sensitive to light and nutrients. With the right balance of water parameters, the Trachyphyllia Open Brain Coral's beautiful shades of blue, green, and orange will add life to any reef tank!
LPS (Large Polyp Stony) Corals
LPS corals, or large polyp stony coral, are a type of reef-building species commonly found in reef aquariums. They get their name due to the large size of their polyps and calcareous skeletons, but they contain small features such as tiny tentacles which help them capture food and absorb light.
Although they require stronger lighting than some varieties of corals, LPS can be an attractive asset to tanks that are given the proper care. The family of LPS is known for their bright colors and diverse shapes, with many species having both upright formations as well as branching forms.
As like with most corals, established LPS will generally not form chemotactic relationships with other living organisms and may even prove aggressive toward neighboring corals if not provided adequate space for growth.
Despite being highly sought after by hobbyists, LPS should be purchased carefully from a reputable source to ensure optimal health when transferred into an existing tank.
SPS (Small Polyp Stony) Corals
SPS corals are the most desired type of coral for aquarists looking to create a color-filled reef tank. These bright stony corals grow quickly and come in a myriad of colors, shapes, and sizes. Not only do they add vibrant visual interest to your tank, but they also help provide natural biological filtration for a healthier environment for its inhabitants.
SPS corals need high light and strong circulation in order to flourish in the reef aquarium, as well as an experienced aquarist who understands how to subtly adjust their delicate environment in order to make sure all corals thrive.
In Conclusion
Reef aquariums offer an array of stunning corals that can add beauty and vibrancy to any home tank. From Acropora coral for its ease of care to Lobophyllia Brain Corals for their unique brain-like shape, to SPS corals for their bright colors – there's something for everyone!
With the right care, these corals can provide years of enjoyment and create an unforgettable underwater masterpiece. Whether you're a beginner or an experienced aquarist, adding corals to your tank is sure to be a rewarding experience.