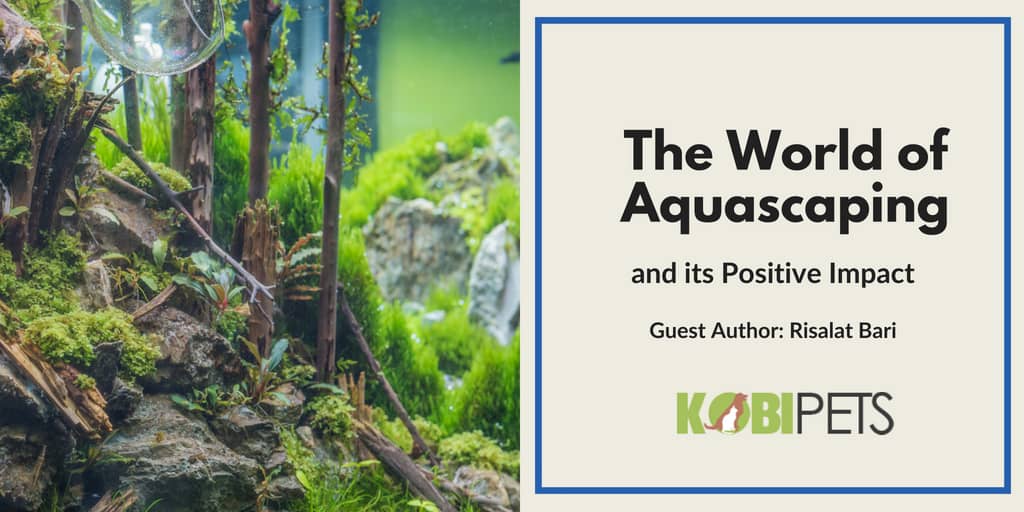 What is Aquascaping?
In simple word, it is an art of constructing a submerged garden. The construction can take place in a container of water or large size aquarium using aquatic florae and additional resources. Fishes can be added.
The modest fish-tank aquarium 'embellishment' has advanced to a practice of art, where redevising an identical, accurate, usual immersed scene is emphasized.
Styles of Aquascaping
There are many styles of aquascaping, but the most popular ones are the- Japanese, Dutch, and Jungle. Now each type of style is described below in short:
Japanese
Japanese style is formed of two separate styles- nature style and Iwagumi style.
Nature style
---
It is known as ''a new standard in aquarium management.'' It tries to imitate natural scenery. An asymmetrical arrangement is used for planting only a few types of plants. In it, the objective is not to create a colorful garden, rather making an earthly countryside in miniature.
Iwagumi style
---
In this style, rock plays the most important role. Even rocks are used comprehensively to provide the basement formation of this aquascape. Most interestingly each rock has its own name, and plays a specific role. Seiryu rocks are mostly used for Iwagumi style.
Dutch
In this style, multiple types of plants in terms of size and color are organized meticulously so that the combined shape seems to be a flower garden. The plants cover more than 80 percent of the aquarium floor.
Besides, the relatively taller plants are used to conceal the gigantic apparatus standing behind the aquarium.
Some favorite plant species for Dutch style aquascaping are:
Saurus Cernuus,
Hygrofolia Corymbosa,
Lobelia Cardinalis,
Cryptocoryne,
Rotala Macrandra,
Alternanthera Reineckii,
Java moss,
Tiger Lotus, etc.
Image Source: Aquarium Architecture
Jungle
For creating this style, bush like plants are used comprehensively. The floor of the aquarium is filled with different colors of bushy plants. The plants those are mostly used in this style belong to the following species:
Sagittaria subulata,
Limnobium laevigatum,
Aponogeton,
Vallisneria Americana.
Besides these, there are some other styles like biotopes, saltwater reefs, and paludariums, which are not as popular as those of afore-discussed.
Watch some awesome aquascapes created by James Findley of Green Machine, and learn more about different aquascaping styles.
Aim of Aquascaping
The primary aim of creating aquascaping was just having personal pleasure by experiencing nature with a fabulous combination of water and landscape. Therefore, people used to create it in own house. But the trend has changed.
Now, aquascaping is also seen in shopping malls and offices as well. The purpose is the same- removing the stress of work and anxiety so that staffs can work more with a cheerful mind and customers buy more items amid a beautiful place.
Positive Impacts of Aquascaping
Aquascaping is a combination of all the natural elements. So, there can be no doubt of its having any negative impact, because negativity does not belong to the traits of nature.
However, there are many positive impacts of aquascaping. Here, the positive impacts are subdivided into these: psychological and physical, social, natural and economic.
Psychological and physical
Are you wondering how aquascaping can have positive impacts on physique and psychology?
Then here follows the answer for you: it is already known that aquascaping is just a combination of natural components. The components include plants comprehensively that produce a lot of oxygen.
So, if one wants to have free fresh oxygen without going to nature, he or she can keep the planted tank's lid open. In this way, one can inhale freshly generated Oxygen, which is the best for health.
Besides, the natural beauty of the aquascaping has the capability of removing any sort of stress from one's mind; it can refresh one instantly.
You can heal your broken heart, and appease your unsteady mind staying close to such a beautiful natural world. Thus aquascaping influences health and psychology positively.
Social
Now you might be thinking how freshly produced Oxygen can have a positive impact on society.
Here is the answer for you: when you have a planted aquarium in your house, be sure that your neighbors and friends will visit you the most. They will visit not being anxious about you, instead for enjoying the beauty of aquascaping for once more.
In this way, your socialization skill will automatically enhance. Moreover, when anyone whether a neighbor or guest is visiting you, and find a beautiful aquascaping in your house he or she will definitely have a positive impression of you.
You will be considered a pleasant and nature lover person by them, who are rarely available in our society. This will automatically improve your social acquaintance.
Natural
Though this impact may seem to be trivial and ludicrous, yet it has at least a slight positive impact. Therefore this is going to be discussed here: the world is gradually losing its nature with the clutch of capitalism, which appears to be ceaseless.
Thus it can be predicted that numerous beautiful and beneficial plants and fishes have been destroyed from the earth, and many are going to be. In such situation aquascaping is working as a mini storehouse of both beautiful plants and fishes.
If all the plants and fishes from all the aquascapings of the world are combined, the quantity will not be negligible. Thus, aquascaping is serving a great natural purpose.

Economic
As we know that aquascaping requires many components that we need to buy. Moreover, there are many business institutions, which have been established centering aquascaping.
Undoubtedly a large number of people are employed to those institutions who are leading their life getting paid by our payment. Thus they are also being able to pay taxes.
These all significantly or insignificantly contribute to the growth of the respective country's economy.
Last Words…
Aquascaping is not only an art of meeting personal hobby but also a storehouse of natural elements, a medium of livelihood and enhancing social skills.
Therefore, it can be said that aquascaping should be taken into consideration by all of them who have the ability and desire.
Their kind consideration will benefit them directly and indirectly it will be a blessing to nature and many other people.
This article was written by Risalat Bari from expertaquarist.com, if you like it please visit our website for more interesting articles.