For pet owners looking for creative and economical ways to furnish their homes with pet-friendly items, DIY projects can be a great solution.
Making your own pet toys and furniture can be a fun and rewarding DIY project that benefits both you and your furry friends. However, it is important to use safe and non-toxic materials in your projects to ensure the health and well-being of your pets.
Through these projects, you can customize them to suit the needs of your four-legged friend as well as enhance their overall comfort and quality of life.
Pet Toy Projects: Ideas and Instructions
Are you tired of buying expensive toys for your furry friend? Why not try making your own pet toys? Not only is it cost-effective, but it's also a fun and creative way to bond with your pet. Here are some ideas and instructions for DIY pet toy projects: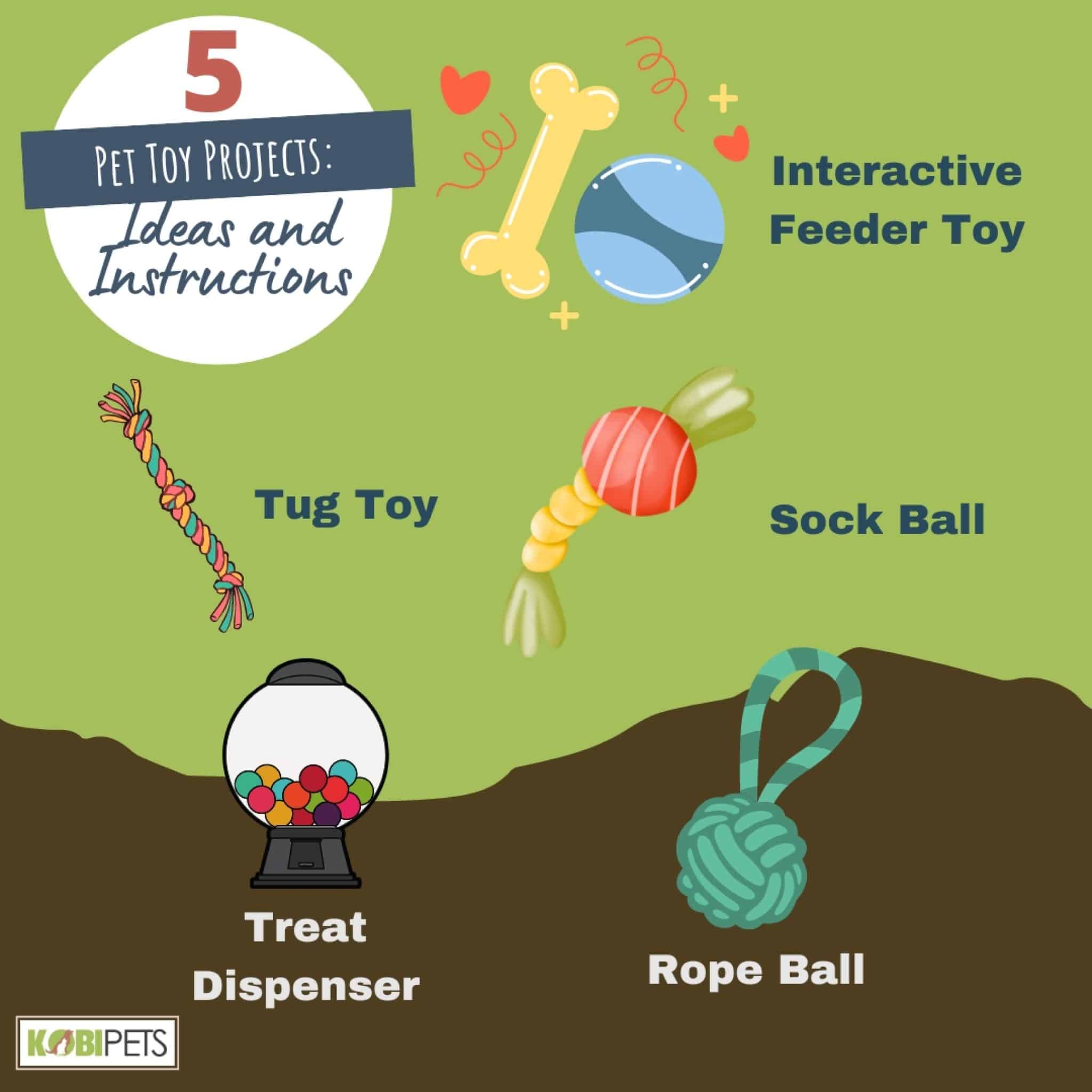 Interactive Feeder Toy: Take an old muffin tin and fill each cup with your dog's favorite treats. Cover each cup with a tennis ball, and let your pup figure out how to get the treats out.
Tug Toy: Cut an old t-shirt or towel into strips, braid them together, and tie knots at each end. Your dog will love playing tug-of-war with this homemade toy.
Sock Ball: Take an old sock and stuff it with another sock or tennis ball. Tie a knot at the end to seal it shut. This toy is perfect for fetch or solo playtime.
Treat Dispenser: Take an empty plastic bottle and cut holes in it big enough for the kibble to fall out. Fill the bottle with treats or kibble, and let your pup roll it around to get their reward.
Rope Ball: Take a piece of rope and tie it into a ball shape. You can add knots throughout the rope for added texture.
These are just a few ideas to get you started on making your own pet toys. The possibilities are endless! Not only is making your own toys cost-effective, but you can also customize them to fit your pet's preferences.
DIY Furniture for Pets: Creative and Functional Designs
Pets are an important part of our lives, and we want to make sure they are comfortable and happy. One way to achieve this is by providing them with their own furniture.
DIY pet furniture is a great way to save money while creating unique pieces that cater to your pet's needs. Here are some creative and functional designs for DIY furniture for pets.
Dog Beds
Upcycled Tire Dog Bed: This bed is made from an old tire, which is cut in half, painted, and filled with a cushion. It's a great way to repurpose an old tire while creating a comfortable bed for your furry friend.
Deluxe Wooden Dog Crate: This crate doubles as a stylish piece of furniture and a cozy den for your dog. It's made from wood pieces and can be customized to fit your dog's size.
End Table Hide-a-Bed for Pets: This end table has a hidden compartment that can be used as a bed for your pet. It's perfect for small spaces or apartments where space is limited.
Cat Furniture
Hammock Bunk Beds: These bunk beds are perfect for cats who love to climb and sleep in high places. They're made from wood pieces and fabric hammocks.
Mosaic Bowl Cat Furniture: This piece of furniture doubles as a scratching post and feeding station. It's made from wood pieces, sisal rope, and mosaic tiles.
Modern Cat Scratcher: This scratcher is made from two pieces of wood and sisal rope. It's simple yet stylish and provides your cat with a place to scratch.
Pet Houses
Easy-to-Build DIY Outdoor Pet House: This outdoor pet house is perfect for dogs who love spending time outside. It's made from wood pieces and can be customized to fit your dog's size.
DIY Wooden Dog Crate Cabinet: This cabinet doubles as storage space and a cozy den for your dog. It's made from wood pieces and can be painted or stained to match your decor.
Other Pet Furniture
DIY Pet Steps: These steps are perfect for pets who have trouble jumping onto high surfaces like beds or couches. They're made from wood pieces and can be customized to fit the height of your furniture.
DIY Pet Toy Box: This toy box is perfect for storing all of your pet's toys in one place. It's made from wood pieces and can be painted or decorated with stencils or stickers.
Using Safe and Non-Toxic Materials in Your Projects
When embarking on DIY projects for your pets, it is important to consider the materials you use to ensure they are safe and non-toxic. Here are some materials to consider using and avoiding when creating pet toys and furniture:
| Safe Materials | Avoid Materials |
| --- | --- |
| Natural fibers (e.g. cotton, hemp) | Synthetic fabrics (e.g. polyester, nylon) |
| Non-toxic paints and dyes | Lead-based paints or dyes |
| Untreated, natural wood | Pressure-treated or chemically-treated wood |
| Organic or non-toxic stuffing (e.g. cotton, wool) | Foam or polyester stuffing |
| Stainless steel or ceramic food and water bowls | Plastic bowls that contain BPA or other harmful chemicals |
By using safe materials in your DIY pet projects, you can ensure the health and well-being of your furry friends.
Additionally, be sure to supervise your pets while they play with their toys or use their furniture to ensure they do not accidentally ingest any materials.
With a little extra care and attention, you can create fun and functional pet projects that both you and your pets will love.
Tips for Making Your Projects Pet-Friendly and Durable
When creating DIY projects for your pet, it's important to use materials that are safe and non-toxic.
Avoid using glue or paint with harmful chemicals that could be ingested by your pet. It's also important to make sure the materials you use are durable so they can withstand your pets' playtime activities.
Here are some tips for making your pet projects pet-friendly and durable:
Use natural, non-toxic materials such as wood, cotton fabric, leather, and wool.
Choose hardware that is made of stainless steel or zinc alloy to prevent rusting.
Avoid using hot glue since it can be toxic if ingested and can also cause burns.
Use waterproof glue to prevent the materials from coming apart when wet.
Choose fabrics that are stain-resistant and durable, such as canvas or denim.
Use upholstery webbing instead of ribbons or strings, which can be chewed off by your pet.
Seal wooden pieces with a pet-safe, non-toxic finish to protect them from moisture and wear and tear.
Use fabrics that are easy to clean, such as microfiber or vinyl.
Consider using machine-washable fabrics if your pet tends to get dirty often.
If using stuffing in your project, look for hypoallergenic stuffing made from natural materials.
Consider using outdoor fabrics for projects that will be used outdoors, as they are more durable and waterproof.
In conclusion
Creating your own pet toys and furniture can easily become a fun and rewarding hobby.
Not only do these projects give you a chance to bond with your pet in the process of making something together, but you can also feel confident knowing that you are providing them with an item designed just for them, made from materials that are appropriate for their environment.
Furthermore, when your items break or wear out, they can be easily replaced by making another one yourself, allowing you to keep your pet entertained for years to come.